There's a lot happening in women's golf! Women's Golf Month just concluded, "Take Your Daughter to the Golf Course Week" is underway and the 2010 U.S. Women's Open is about ready to begin in Pittsburgh, PA.
While temperatures are soaring in the Pittsburgh area and throughout the northeast and mid-Atlantic and actually everywhere this week across the country, it will be interesting to see how the 156 competitors adapt to the heat and course conditions at what has been called one of the great championship courses in the world – Oakmont Country Club. Did you know that over the years, the state of Pennsylvania has hosted more USGA Championships than any other state in the country, with a total of 79?
At the end of this week, the USGA will crown the 65th U.S. Women's Open champion. When Oakmont Country Club last hosted the U.S. Women's Open, Patty Sheehan was the winner. That was in 1992.
This years' general chairman for the event is Carol Semple Thompson who also competed in the 1992 Women's Open there at Oakmont. She has been heralded as the country's finest female amateur golfer and is a member of the World Golf

Hall of Fame. While her role this week is outside the ropes, she did have the opportunity to play a practice round with Natalie Gulbis, Brittany Lincicome and former Curtis Cup participant Meredith Duncan. Her reaction to the experience, "It was really fun because I could play from the front tees and they can go back to where they belong."
Barbara Douglas, chairman of the USGA Women's Committee (and previous member of the EWGA Board of Directors) will also be a busy woman this week.

At today's USGA press conference, Barbara shared these comments, "We're thrilled to be back at Oakmont. It's such a wonderful site for the U.S. Women's Open. I think Patty Sheehan is going to be here this week. She'll probably spend some time going down memory lane. We've got four players in the field who were here and competed in 1992. They are Juli Inkster, Pat Hurst, Sherri Stenhauer and Helen Alfredson.
"We have a fifth player here this week who qualified for the field in 1992, Martha Nause.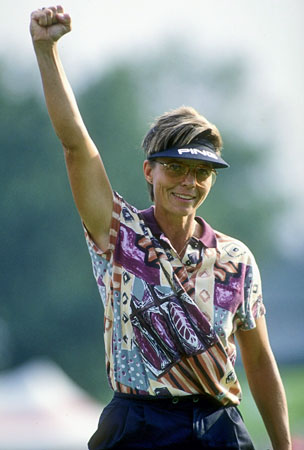 She was unable to tee it up on the first day in '92, but she qualified. She's back here this year, and so 18 years later, she's going to get a chance to tee it up at Oakmont. We have 24 amateurs in the field and we have three brand new professionals making their debut in the field this week. Kimberly Kim, Alexis Thompson and Jennifer Song. All three were members of the victorious Curtis Cup team which just took place a few weeks ago."
2010 is a record year for U.S. Women's Open entries and the 7th year in a row a record has been set for the number of entries into this competition. This is good news for women's competitive golf!
And good news for women's golf. So tune in and watch what is happening. You can catch the action on ESPN2 on Thursday and Friday and then on NBC over the weekend.